What Skills Does an Entrepreneur Need?
Corporate business or entrepreneurship? Which is best for you?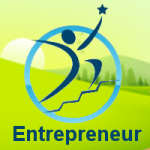 "The best way to predict the future is to create it."
– Peter Drucker
Many of the business competencies and skills regarded as essential for entrepreneurs are necessary for everyone in business management.
In this series we will look at the similarities and differences between business people and entrepreneurs, what are the skills, characteristics, attributes and behaviours of each group?
We will talk about how different types of people operate, what typically drives them. We will consider the issues that concern people starting a new business.
This will help you decide which route best suits you, where your strengths lie, and whether you will be suited for an entrepreneurial role, or for a corporate role.
What makes an entrepreneur?
Could you be an entrepreneur? What is that makes a successful entrepreneur? What are the skills you need to learn? Is entrepreneurship a career?
Can you learn the traits and skills of entrepreneurship, or are you born with them?
Opinion is divided here, some people believe you are born with the traits that define an entrepreneur, and others dispute this.
As it is becoming increasingly obvious that we need entrepreneurs to exploit new technology and set up new businesses, many schools, colleges and business schools are setting up courses to teach the skills, demonstrating that many people believe that it is possible to learn a range of entrepreneurial skills.
"Winners never quit and quitters never win."
– Vince Lombardi
Professor David Kirby has written a book entitled 'Entrepreneurship' in which he suggests that 
"the successful entrepreneur has a range of personal skills, attributes and behaviours that go beyond the purely commercial. It is these attributes, this way of thinking and behaving that needs to be developed in our students if their entrepreneurial capabilities are to be enhanced."
Like all aspects of personal growth, it is easier to develop the necessary skills if you define them, study them and learn to emulate them.
What defines an entrepreneur?
Entrepreneurs are hungry, ask lots of questions, like to solve problems, have talent, and ambition. They often like to analyse numbers and spot trends.
The big dilemma for everyone in a safe job with a good salary, is whether to take the risk, and jeopardise their income in the hope of striking it rich with their own business. For many it is a redundancy or change of circumstances that make them take the leap.
For others it is the lack of a satisfactory job in the first place, nothing to lose, that makes them take the leap.
In my view, many people have the ability to run their own business, if not to be a serial entrepreneur.
They are not quite the same thing
What is a serial entrepreneur?
This is a person who enjoys, and is successful at, creating new products and new businesses. They are often not the best person to run the business, because once it is up and running, they are bored and want to move on to the next thing.
They continually spot opportunities, gaps in the market, scenarios created by new technology. Their skill is in exploiting those opportunities by creating a business to supply the product or service required.
They do not necessarily have the staying power to manage the business. That is a different skillset entirely.
Are all entrepreneurs the same?
No I don't believe they are. There are levels of entrepreneur, just as there are levels of most things.
There is the entrepreneur who runs a small local business and is happy with that.
Then there is the entrepreneur that wants to grow that into a local chain, or even a national one.
Some people will settle for nothing less than global domination.
What is an Intrepreneur?
This defines a person who is entrepreneurial within an existing organisation, and is a contraction of "internal entrepreneurs". So this is a person who displays entrepreneurial traits and behaviour on behalf of their employer.
What are regarded as entrepreneurial skills?
Many of the business competencies and skills commonly defined as entrepreneurial are necessary for everyone in business management. They all need a range of knowledge and skills. For example
The ability to write a business plan
Ability to market and sell a new product or service
Financial literacy
Awareness of Intellectual property, copyright law, trademarks and patents
"My biggest motivation? Just to keep challenging myself. I see life almost like one long University education that I never had — everyday I'm learning something new."
– Richard Branson
In addition they need some specific personal traits and characteristics, which we will discuss later.
Entrepreneurial skills might include
General management skills – the ability to manage resources, and to manage people.
Financial literacy
Time management skills- managing your own time and others,
Communication skills
Influencing skills
The ability to be both a team player and work independently
Able to plan, coordinate and organise effectively
Able to research effectively, including market research
Ability to network and make contacts
Self-motivated and disciplined
Adaptable to changing circumstances
Innovative and creative thinker
The ability to multi-task
Ability to take responsibility and make decisions
The ability to work under pressure, and tolerate stress
Perseverance
Competitiveness
Evaluate and take risks